These French Flash Cards are a great way to study French and build up your vocabulary. Learning French is a big undertaking. It can be very time-consuming to learn a new language, especially when you have so much work to do. The good news is that there are tools available to help you out! Flashcards are proven effective for learning languages and the use of the internet has led to the creation of powerful electronic French flashcards.
France has a lot to offer when it comes to tourist attractions, cuisine, fashion, and leisure activities. Paris is one of the most visited cities in the world with an estimated 45 million visitors a year. If you want to experience France in all its glory, come and visit!
Be sure to check out all our flashcards.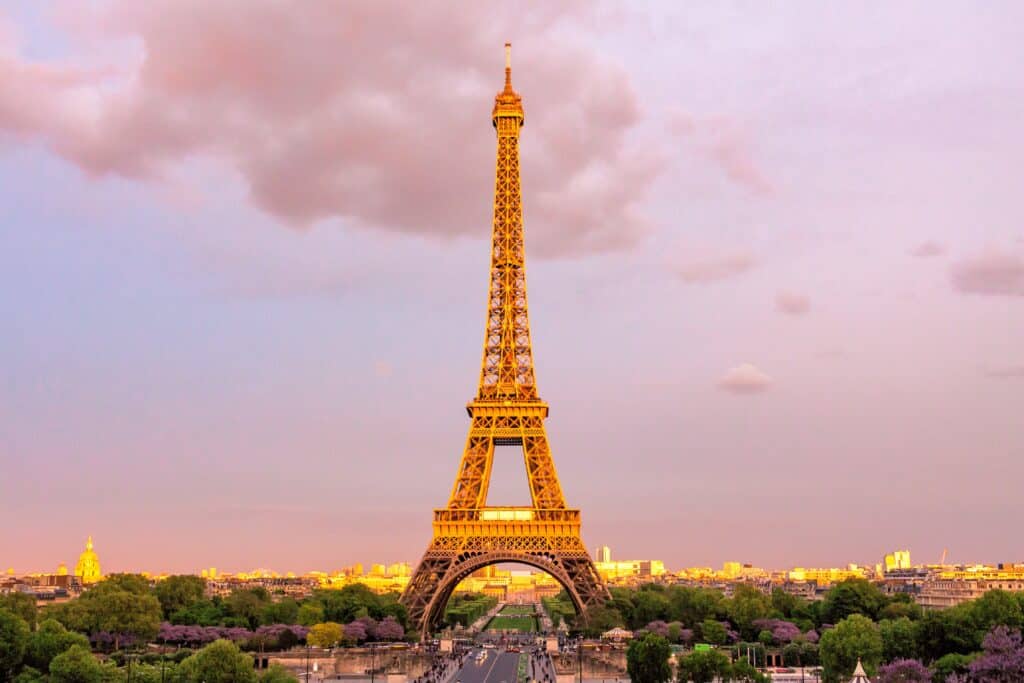 Tips for how to use the French flashcards
Look at the front of the card for the English Word
Think in your head what the French word is on the back of the card.
Turn over the card.
Keep going through the deck several times to make sure you know all the words
If you get a card right several times and you are sure you know it, then you can discard it from the deck.
If you are not sure how to pronounce a word then use the SPEAK button.
Why Learn French?
Learning a second language is never easy, but the benefits are numerous. French is spoken in over 20 countries around the world, so you can easily speak to people from around the world. Learning French will also improve your chances of getting a job outside of your home country.
French is considered to be one of the most beautiful languages in the world. The French language comes from a rich and diverse culture that dates back to the 16th century. French has evolved over time but still includes many words, phrases, and sayings that would be recognizable to anyone who learned a foreign language.
These French Flashcards will help you see that for yourself.
For further study, I recommend this site.
About the French Card Decks
The common card decks are split into 25 cards each. Some of the other decks such as basic vocabulary are smaller.
Here is a list of the card decks with their English and French vocabulary. You can use this as a guide to see which deck you should study.
French Flashcards Deck #1
| Card # | English | French |
| --- | --- | --- |
| 1. | as | comme |
| 2. | I | je |
| 3. | his | son |
| 4. | that | que |
| 5. | he | il |
| 6. | was | était |
| 7. | for | pour |
| 8. | on | sur |
| 9. | are | sont |
| 10. | with | avec |
| 11. | they | ils |
| 12. | be | être |
| 13. | at | à |
| 14. | one | un |
| 15. | have | avoir |
| 16. | this | ce |
| 17. | from | à partir de |
| 18. | by | par |
| 19. | hot | chaud |
| 20. | word | mot |
| 21. | but | mais |
| 22. | what | que |
| 23. | some | certains |
| 24. | is | est |
| 25. | it | il |
French Flashcards Deck #2
| Card # | English | French |
| --- | --- | --- |
| 1. | you | vous |
| 2. | or | ou |
| 3. | had | eu |
| 4. | the | la |
| 5. | of | de |
| 6. | to | à |
| 7. | and | et |
| 8. | a | un |
| 9. | in | dans |
| 10. | we | nous |
| 11. | can | boîte |
| 12. | out | dehors |
| 13. | other | autre |
| 14. | were | étaient |
| 15. | which | qui |
| 16. | do | faire |
| 17. | their | leur |
| 18. | time | temps |
| 19. | if | si |
| 20. | will | volonté |
| 21. | how | comment |
| 22. | said | dit |
| 23. | an | un |
| 24. | each | chaque |
| 25. | tell | dire |
French Flashcards Deck #3
| Card # | English | French |
| --- | --- | --- |
| 1. | does | ne |
| 2. | set | ensemble |
| 3. | three | trois |
| 4. | want | vouloir |
| 5. | air | air |
| 6. | well | bien |
| 7. | also | aussi |
| 8. | play | jouer |
| 9. | small | petit |
| 10. | end | fin |
| 11. | put | mettre |
| 12. | home | maison |
| 13. | read | lire |
| 14. | hand | main |
| 15. | port | port |
| 16. | large | grand |
| 17. | spell | épeler |
| 18. | add | ajouter |
| 19. | even | même |
| 20. | land | terre |
| 21. | here | ici |
| 22. | must | il faut |
| 23. | big | grand |
| 24. | high | haut |
| 25. | such | tel |
French Flashcards Deck #4
| Card # | English | French |
| --- | --- | --- |
| 1. | follow | suivre |
| 2. | act | acte |
| 3. | why | pourquoi |
| 4. | ask | interroger |
| 5. | men | hommes |
| 6. | change | changement |
| 7. | went | est allé |
| 8. | light | lumière |
| 9. | kind | genre |
| 10. | off | de |
| 11. | need | besoin |
| 12. | house | maison |
| 13. | picture | image |
| 14. | try | essayer |
| 15. | us | nous |
| 16. | again | encore |
| 17. | animal | animal |
| 18. | point | point |
| 19. | mother | mère |
| 20. | world | monde |
| 21. | near | près de |
| 22. | build | construire |
| 23. | self | soi |
| 24. | earth | terre |
| 25. | father | père |
French Flashcards Deck #5
| Card # | English | French |
| --- | --- | --- |
| 1. | any | tout |
| 2. | new | nouveau |
| 3. | work | travail |
| 4. | part | partie |
| 5. | take | prendre |
| 6. | get | obtenir |
| 7. | place | lieu |
| 8. | made | fabriqué |
| 9. | live | vivre |
| 10. | where | où |
| 11. | after | après |
| 12. | back | arrière |
| 13. | little | peu |
| 14. | only | seulement |
| 15. | round | tour |
| 16. | man | homme |
| 17. | year | année |
| 18. | came | est venu |
| 19. | show | montrer |
| 20. | every | tous |
| 21. | good | bon |
| 22. | me | moi |
| 23. | give | donner |
| 24. | our | notre |
| 25. | under | sous |
French Flashcards Deck #6
| Card # | English | French |
| --- | --- | --- |
| 1. | name | nom |
| 2. | very | très |
| 3. | through | par |
| 4. | just | juste |
| 5. | form | forme |
| 6. | sentence | phrase |
| 7. | great | grand |
| 8. | think | penser |
| 9. | say | dire |
| 10. | help | aider |
| 11. | low | faible |
| 12. | line | ligne |
| 13. | differ | différer |
| 14. | turn | tour |
| 15. | cause | la cause |
| 16. | much | beaucoup |
| 17. | mean | signifier |
| 18. | before | avant |
| 19. | move | déménagement |
| 20. | right | droit |
| 21. | boy | garçon |
| 22. | old | vieux |
| 23. | too | trop |
| 24. | same | même |
| 25. | she | elle |
French Flashcards Deck #7
| Card # | English | French |
| --- | --- | --- |
| 1. | all | tous |
| 2. | there | là |
| 3. | when | quand |
| 4. | up | jusqu'à |
| 5. | use | utiliser |
| 6. | your | votre |
| 7. | way | manière |
| 8. | about | sur |
| 9. | many | beaucoup |
| 10. | then | puis |
| 11. | them | les |
| 12. | write | écrire |
| 13. | would | voudrais |
| 14. | like | comme |
| 15. | so | si |
| 16. | these | ces |
| 17. | her | son |
| 18. | long | long |
| 19. | make | faire |
| 20. | thing | chose |
| 21. | see | voir |
| 22. | him | lui |
| 23. | two | deux |
| 24. | has | a |
| 25. | look | regarder |
French Flashcards Deck #8
| Card # | English | French |
| --- | --- | --- |
| 1. | more | plus |
| 2. | day | jour |
| 3. | could | pourrait |
| 4. | go | aller |
| 5. | come | venir |
| 6. | did | fait |
| 7. | number | nombre |
| 8. | sound | son |
| 9. | no | aucun |
| 10. | most | plus |
| 11. | people | personnes |
| 12. | my | ma |
| 13. | over | sur |
| 14. | know | savoir |
| 15. | water | eau |
| 16. | than | que |
| 17. | call | appel |
| 18. | first | première |
| 19. | who | qui |
| 20. | may | peut |
| 21. | down | vers le bas |
| 22. | side | côté |
| 23. | been | été |
| 24. | now | maintenant |
| 25. | find | trouver |
French Flashcards Deck #9
| Card # | English | French |
| --- | --- | --- |
| 1. | head | tête |
| 2. | stand | supporter |
| 3. | own | propre |
| 4. | page | page |
| 5. | should | devrait |
| 6. | country | pays |
| 7. | found | trouvé |
| 8. | answer | réponse |
| 9. | school | école |
| 10. | grow | croître |
| 11. | study | étude |
| 12. | still | encore |
| 13. | learn | apprendre |
| 14. | plant | usine |
| 15. | cover | couvercle |
| 16. | food | nourriture |
| 17. | sun | soleil |
| 18. | four | quatre |
| 19. | between | entre |
| 20. | state | état |
| 21. | keep | garder |
| 22. | eye | œil |
| 23. | never | jamais |
| 24. | last | dernier |
| 25. | let | laisser |
French Flashcards Deck #10
| Card # | English | French |
| --- | --- | --- |
| 1. | thought | pensée |
| 2. | city | ville |
| 3. | tree | arbre |
| 4. | cross | traverser |
| 5. | farm | ferme |
| 6. | hard | dur |
| 7. | start | début |
| 8. | might | puissance |
| 9. | story | histoire |
| 10. | saw | scie |
| 11. | far | loin |
| 12. | sea | mer |
| 13. | draw | tirer |
| 14. | left | gauche |
| 15. | late | tard |
| 16. | run | courir |
| 17. | don't | needs a context |
| 18. | while | tandis que |
| 19. | press | presse |
| 20. | close | proche |
| 21. | night | nuit |
| 22. | real | réel |
| 23. | life | vie |
| 24. | few | peu |
| 25. | north | nord |
French Flashcards Deck #11
| Card # | English | French |
| --- | --- | --- |
| 1. | book | livre |
| 2. | carry | porter |
| 3. | took | a pris |
| 4. | science | science |
| 5. | eat | manger |
| 6. | room | chambre |
| 7. | friend | ami |
| 8. | began | a commencé |
| 9. | idea | idée |
| 10. | fish | poisson |
| 11. | mountain | montagne |
| 12. | stop | Arrêtez |
| 13. | once | une fois |
| 14. | base | base |
| 15. | hear | entendre |
| 16. | horse | cheval |
| 17. | cut | coupe |
| 18. | sure | sûr |
| 19. | watch | regarder |
| 20. | color | couleur |
| 21. | face | face |
| 22. | wood | bois |
| 23. | main | principal |
| 24. | open | ouvert |
| 25. | seem | paraître |
French Flashcards Deck #12
| Card # | English | French |
| --- | --- | --- |
| 1. | together | ensemble |
| 2. | next | suivant |
| 3. | white | blanc |
| 4. | children | enfants |
| 5. | begin | commencer |
| 6. | got | eu |
| 7. | walk | marcher |
| 8. | example | exemple |
| 9. | ease | facilité |
| 10. | paper | papier |
| 11. | group | groupe |
| 12. | always | toujours |
| 13. | music | musique |
| 14. | those | ceux |
| 15. | both | tous les deux |
| 16. | mark | marque |
| 17. | often | souvent |
| 18. | letter | lettre |
| 19. | until | jusqu'à ce que |
| 20. | mile | mile |
| 21. | river | rivière |
| 22. | car | voiture |
| 23. | feet | pieds |
| 24. | care | soins |
| 25. | second | deuxième |
French Flashcards Deck #13
| Card # | English | French |
| --- | --- | --- |
| 1. | enough | assez |
| 2. | plain | plaine |
| 3. | girl | fille |
| 4. | usual | habituel |
| 5. | young | jeune |
| 6. | ready | prêt |
| 7. | above | au-dessus |
| 8. | ever | jamais |
| 9. | red | rouge |
| 10. | list | liste |
| 11. | though | bien que |
| 12. | feel | sentir |
| 13. | talk | parler |
| 14. | bird | oiseau |
| 15. | soon | bientôt |
| 16. | body | corps |
| 17. | dog | chien |
| 18. | family | famille |
| 19. | direct | direct |
| 20. | pose | pose |
| 21. | leave | laisser |
| 22. | song | chanson |
| 23. | measure | mesurer |
| 24. | door | porte |
| 25. | product | produit |
French Flashcards Deck #14
| Card # | English | French |
| --- | --- | --- |
| 1. | black | noir |
| 2. | short | court |
| 3. | numeral | chiffre |
| 4. | class | classe |
| 5. | wind | vent |
| 6. | question | question |
| 7. | happen | arriver |
| 8. | complete | complète |
| 9. | ship | navire |
| 10. | area | zone |
| 11. | half | moitié |
| 12. | rock | rock |
| 13. | order | ordre |
| 14. | fire | feu |
| 15. | south | sud |
| 16. | problem | problème |
| 17. | piece | pièce |
| 18. | told | dit |
| 19. | knew | savait |
| 20. | pass | passer |
| 21. | since | depuis |
| 22. | top | haut |
| 23. | whole | ensemble |
| 24. | king | roi |
| 25. | street | rue |
French Flashcards Deck #15
| Card # | English | French |
| --- | --- | --- |
| 1. | inch | pouce |
| 2. | multiply | multiplier |
| 3. | nothing | rien |
| 4. | course | cours |
| 5. | stay | rester |
| 6. | wheel | roue |
| 7. | full | plein |
| 8. | force | force |
| 9. | blue | bleu |
| 10. | object | objet |
| 11. | decide | décider |
| 12. | surface | surface |
| 13. | deep | profond |
| 14. | moon | lune |
| 15. | island | île |
| 16. | foot | pied |
| 17. | system | système |
| 18. | busy | occupé |
| 19. | test | test |
| 20. | record | record |
| 21. | boat | bateau |
| 22. | common | commun |
| 23. | gold | or |
| 24. | possible | possible |
| 25. | plane | plan |
French Flashcards Deck #16
| Card # | English | French |
| --- | --- | --- |
| 1. | stead | place |
| 2. | dry | sec |
| 3. | wonder | se demander |
| 4. | laugh | rire |
| 5. | thousand | mille |
| 6. | ago | il ya |
| 7. | ran | ran |
| 8. | check | vérifier |
| 9. | game | jeu |
| 10. | shape | forme |
| 11. | equate | assimiler |
| 12. | hot | chaud |
| 13. | miss | manquer |
| 14. | brought | apporté |
| 15. | heat | chaleur |
| 16. | snow | neige |
| 17. | tire | pneu |
| 18. | bring | apporter |
| 19. | yes | oui |
| 20. | distant | lointain |
| 21. | fill | remplir |
| 22. | east | est |
| 23. | paint | peindre |
| 24. | language | langue |
| 25. | among | entre |
French Flashcards Deck #17
| Card # | English | French |
| --- | --- | --- |
| 1. | unit | unité |
| 2. | power | puissance |
| 3. | town | ville |
| 4. | fine | fin |
| 5. | certain | certain |
| 6. | fly | voler |
| 7. | fall | tomber |
| 8. | lead | conduire |
| 9. | cry | cri |
| 10. | dark | sombre |
| 11. | machine | machine |
| 12. | note | Note |
| 13. | wait | patienter |
| 14. | plan | plan |
| 15. | figure | figure |
| 16. | star | étoile |
| 17. | box | boîte |
| 18. | noun | nom |
| 19. | field | domaine |
| 20. | rest | reste |
| 21. | correct | correct |
| 22. | able | capable |
| 23. | pound | livre |
| 24. | done | Terminé |
| 25. | beauty | beauté |
French Flashcards Deck #18
| Card # | English | French |
| --- | --- | --- |
| 1. | drive | entraînement |
| 2. | stood | résisté |
| 3. | contain | contenir |
| 4. | front | avant |
| 5. | teach | enseigner |
| 6. | week | semaine |
| 7. | final | finale |
| 8. | gave | donné |
| 9. | green | vert |
| 10. | oh | oh |
| 11. | quick | rapide |
| 12. | develop | développer |
| 13. | ocean | océan |
| 14. | warm | chaud |
| 15. | free | gratuit |
| 16. | minute | minute |
| 17. | strong | fort |
| 18. | special | spécial |
| 19. | mind | esprit |
| 20. | behind | derrière |
| 21. | clear | clair |
| 22. | tail | queue |
| 23. | produce | produire |
| 24. | fact | fait |
| 25. | space | espace |
French Flashcards Deck #19
| Card # | English | French |
| --- | --- | --- |
| 1. | heard | entendu |
| 2. | best | meilleur |
| 3. | hour | heure |
| 4. | better | mieux |
| 5. | TRUE | vrai |
| 6. | during | pendant |
| 7. | hundred | cent |
| 8. | five | cinq |
| 9. | remember | rappeler |
| 10. | step | étape |
| 11. | early | tôt |
| 12. | hold | tenir |
| 13. | west | ouest |
| 14. | ground | sol |
| 15. | interest | intérêt |
| 16. | reach | atteindre |
| 17. | fast | rapide |
| 18. | verb | verbe |
| 19. | sing | chanter |
| 20. | listen | écouter |
| 21. | six | six |
| 22. | table | table |
| 23. | travel | Voyage |
| 24. | less | moins |
| 25. | morning | matin |
French Flashcards Deck #20
| Card # | English | French |
| --- | --- | --- |
| 1. | ten | dix |
| 2. | simple | simple |
| 3. | several | plusieurs |
| 4. | vowel | voyelle |
| 5. | toward | vers |
| 6. | war | guerre |
| 7. | lay | poser |
| 8. | against | contre |
| 9. | pattern | modèle |
| 10. | slow | lent |
| 11. | center | centre |
| 12. | love | amour |
| 13. | person | personne |
| 14. | money | argent |
| 15. | serve | servir |
| 16. | appear | apparaître |
| 17. | road | route |
| 18. | map | carte |
| 19. | rain | pluie |
| 20. | rule | règle |
| 21. | govern | gouverner |
| 22. | pull | tirer |
| 23. | cold | froid |
| 24. | notice | avis |
| 25. | voice | voix |
French Flashcards Deck #21
| Card # | English | French |
| --- | --- | --- |
| 1. | energy | énergie |
| 2. | hunt | chasse |
| 3. | probable | probable |
| 4. | bed | lit |
| 5. | brother | frère |
| 6. | egg | œuf |
| 7. | ride | tour |
| 8. | cell | cellule |
| 9. | believe | croire |
| 10. | perhaps | peut-être |
| 11. | pick | choisir |
| 12. | sudden | soudain |
| 13. | count | compter |
| 14. | square | carré |
| 15. | reason | raison |
| 16. | length | longueur |
| 17. | represent | représenter |
| 18. | art | art |
| 19. | subject | sujet |
| 20. | region | région |
| 21. | size | taille |
| 22. | vary | varier |
| 23. | settle | régler |
| 24. | speak | parler |
| 25. | weight | poids |
French Flashcards Deck #22
| Card # | English | French |
| --- | --- | --- |
| 1. | general | général |
| 2. | ice | glace |
| 3. | matter | question |
| 4. | circle | cercle |
| 5. | pair | paire |
| 6. | include | inclure |
| 7. | divide | fracture |
| 8. | syllable | syllabe |
| 9. | felt | feutre |
| 10. | grand | grandiose |
| 11. | ball | balle |
| 12. | yet | encore |
| 13. | wave | vague |
| 14. | drop | tomber |
| 15. | heart | cœur |
| 16. | am | h |
| 17. | present | présent |
| 18. | heavy | lourd |
| 19. | dance | danse |
| 20. | engine | moteur |
| 21. | position | position |
| 22. | arm | bras |
| 23. | wide | large |
| 24. | sail | voile |
| 25. | material | matériel |
French Flashcards Deck #23
| Card # | English | French |
| --- | --- | --- |
| 1. | fraction | fraction |
| 2. | forest | forêt |
| 3. | sit | s'asseoir |
| 4. | race | course |
| 5. | window | fenêtre |
| 6. | store | magasin |
| 7. | summer | été |
| 8. | train | train |
| 9. | sleep | sommeil |
| 10. | prove | prouver |
| 11. | lone | seul |
| 12. | leg | jambe |
| 13. | exercise | exercice |
| 14. | wall | mur |
| 15. | catch | capture |
| 16. | mount | monture |
| 17. | wish | souhaiter |
| 18. | sky | ciel |
| 19. | board | conseil |
| 20. | joy | joie |
| 21. | winter | hiver |
| 22. | sat | sat |
| 23. | written | écrit |
| 24. | wild | sauvage |
| 25. | instrument | instrument |
French Flashcards Deck #24
| Card # | English | French |
| --- | --- | --- |
| 1. | kept | conservé |
| 2. | glass | verre |
| 3. | grass | herbe |
| 4. | cow | vache |
| 5. | job | emploi |
| 6. | edge | bord |
| 7. | sign | signe |
| 8. | visit | visite |
| 9. | past | passé |
| 10. | soft | doux |
| 11. | fun | amusement |
| 12. | bright | clair |
| 13. | gas | gaz |
| 14. | weather | temps |
| 15. | month | mois |
| 16. | million | million |
| 17. | bear | porter |
| 18. | finish | finition |
| 19. | happy | heureux |
| 20. | hope | espoir |
| 21. | flower | fleur |
| 22. | clothe | vêtir |
| 23. | strange | étrange |
| 24. | gone | disparu |
| 25. | trade | commerce |
French Flashcards Deck #25
| Card # | English | French |
| --- | --- | --- |
| 1. | melody | mélodie |
| 2. | trip | voyage |
| 3. | office | bureau |
| 4. | receive | recevoir |
| 5. | row | rangée |
| 6. | mouth | bouche |
| 7. | exact | exact |
| 8. | symbol | symbole |
| 9. | die | mourir |
| 10. | least | moins |
| 11. | trouble | difficulté |
| 12. | shout | cri |
| 13. | except | sauf |
| 14. | wrote | écrit |
| 15. | seed | semence |
| 16. | tone | ton |
| 17. | join | joindre |
| 18. | suggest | suggérer |
| 19. | clean | propre |
| 20. | break | pause |
| 21. | lady | dame |
| 22. | yard | cour |
| 23. | rise | augmenter |
| 24. | bad | mauvais |
| 25. | blow | coup |
French Flashcards Deck #26
| Card # | English | French |
| --- | --- | --- |
| 1. | oil | huile |
| 2. | blood | sang |
| 3. | touch | toucher |
| 4. | grew | a augmenté |
| 5. | cent | cent |
| 6. | mix | mélanger |
| 7. | team | équipe |
| 8. | wire | fil |
| 9. | cost | coût |
| 10. | lost | perdu |
| 11. | brown | brun |
| 12. | wear | porter |
| 13. | garden | jardin |
| 14. | equal | égal |
| 15. | sent | expédié |
| 16. | choose | choisir |
| 17. | fell | est tombé |
| 18. | fit | s'adapter |
| 19. | flow | débit |
| 20. | fair | juste |
| 21. | bank | banque |
| 22. | collect | recueillir |
| 23. | save | sauver |
| 24. | control | contrôle |
| 25. | decimal | décimal |
French Flashcards Deck #27
| Card # | English | French |
| --- | --- | --- |
| 1. | ear | oreille |
| 2. | else | autre |
| 3. | quite | tout à fait |
| 4. | broke | cassé |
| 5. | case | cas |
| 6. | middle | milieu |
| 7. | kill | tuer |
| 8. | son | fils |
| 9. | lake | lac |
| 10. | moment | moment |
| 11. | scale | échelle |
| 12. | loud | fort |
| 13. | spring | printemps |
| 14. | observe | observer |
| 15. | child | enfant |
| 16. | straight | droit |
| 17. | consonant | consonne |
| 18. | nation | nation |
| 19. | dictionary | dictionnaire |
| 20. | milk | lait |
| 21. | speed | vitesse |
| 22. | method | méthode |
| 23. | organ | organe |
| 24. | pay | payer |
| 25. | age | âge |
French Flashcards Deck #28
| Card # | English | French |
| --- | --- | --- |
| 1. | section | section |
| 2. | dress | robe |
| 3. | cloud | nuage |
| 4. | surprise | surprise |
| 5. | quiet | calme |
| 6. | stone | pierre |
| 7. | tiny | minuscule |
| 8. | climb | montée |
| 9. | cool | frais |
| 10. | design | conception |
| 11. | poor | pauvres |
| 12. | lot | lot |
| 13. | experiment | expérience |
| 14. | bottom | bas |
| 15. | key | clé |
| 16. | iron | fer |
| 17. | single | unique |
| 18. | stick | bâton |
| 19. | flat | plat |
| 20. | twenty | vingt |
| 21. | skin | peau |
| 22. | smile | sourire |
| 23. | crease | pli |
| 24. | hole | trou |
| 25. | jump | sauter |
French Flashcards Deck #29
| Card # | English | French |
| --- | --- | --- |
| 1. | baby | bébé |
| 2. | eight | huit |
| 3. | village | village |
| 4. | meet | se rencontrent |
| 5. | root | racine |
| 6. | buy | acheter |
| 7. | raise | augmenter |
| 8. | solve | résoudre |
| 9. | metal | métal |
| 10. | whether | si |
| 11. | push | pousser |
| 12. | seven | sept |
| 13. | paragraph | paragraphe |
| 14. | third | troisième |
| 15. | shall | doit |
| 16. | held | en attente |
| 17. | hair | cheveux |
| 18. | describe | décrire |
| 19. | cook | cuisinier |
| 20. | floor | étage |
| 21. | either | chaque |
| 22. | result | résultat |
| 23. | burn | brûler |
| 24. | hill | colline |
| 25. | safe | coffre-fort |
French Flashcards Deck #30
| Card # | English | French |
| --- | --- | --- |
| 1. | cat | chat |
| 2. | century | siècle |
| 3. | consider | envisager |
| 4. | type | type |
| 5. | law | droit |
| 6. | bit | peu |
| 7. | coast | côte |
| 8. | copy | copie |
| 9. | phrase | phrase |
| 10. | silent | silencieux |
| 11. | tall | haut |
| 12. | sand | sable |
| 13. | soil | sol |
| 14. | roll | rouleau |
| 15. | temperature | température |
| 16. | finger | doigt |
| 17. | industry | industrie |
| 18. | value | valeur |
| 19. | fight | lutte |
| 20. | lie | mensonge |
| 21. | beat | battre |
| 22. | excite | exciter |
| 23. | natural | naturel |
| 24. | view | vue |
| 25. | sense | sens |
French Flashcards Deck #31
| Card # | English | French |
| --- | --- | --- |
| 1. | capital | capital |
| 2. | won't | ne sera pas |
| 3. | chair | chaise |
| 4. | danger | danger |
| 5. | fruit | fruit |
| 6. | rich | riche |
| 7. | thick | épais |
| 8. | soldier | soldat |
| 9. | process | processus |
| 10. | operate | fonctionner |
| 11. | practice | pratique |
| 12. | separate | séparé |
| 13. | difficult | difficile |
| 14. | doctor | médecin |
| 15. | please | s'il vous plaît |
| 16. | protect | protéger |
| 17. | noon | midi |
| 18. | crop | récolte |
| 19. | modern | moderne |
| 20. | element | élément |
| 21. | hit | frapper |
| 22. | student | étudiant |
| 23. | corner | coin |
| 24. | party | partie |
| 25. | supply | alimentation |
French Flashcards Deck #32
| Card # | English | French |
| --- | --- | --- |
| 1. | whose | dont |
| 2. | locate | localiser |
| 3. | ring | anneau |
| 4. | character | caractère |
| 5. | insect | insecte |
| 6. | caught | pris |
| 7. | period | période |
| 8. | indicate | indiquer |
| 9. | radio | radio |
| 10. | spoke | rayon |
| 11. | atom | atome |
| 12. | human | humain |
| 13. | history | histoire |
| 14. | effect | effet |
| 15. | electric | électrique |
| 16. | expect | attendre |
| 17. | bone | os |
| 18. | rail | rail |
| 19. | imagine | imaginer |
| 20. | provide | fournir |
| 21. | agree | se mettre d'accord |
| 22. | thus | ainsi |
| 23. | gentle | doux |
| 24. | woman | femme |
| 25. | captain | capitaine |
French Flashcards Deck #33
| Card # | English | French |
| --- | --- | --- |
| 1. | guess | deviner |
| 2. | necessary | nécessaire |
| 3. | sharp | net |
| 4. | wing | aile |
| 5. | create | créer |
| 6. | neighbor | voisin |
| 7. | wash | lavage |
| 8. | bat | chauve-souris |
| 9. | rather | plutôt |
| 10. | crowd | foule |
| 11. | corn | blé |
| 12. | compare | comparer |
| 13. | poem | poème |
| 14. | string | chaîne |
| 15. | bell | cloche |
| 16. | depend | dépendre |
| 17. | meat | viande |
| 18. | rub | rub |
| 19. | tube | tube |
| 20. | famous | célèbre |
| 21. | dollar | dollar |
| 22. | stream | courant |
| 23. | fear | peur |
| 24. | sight | vue |
| 25. | thin | mince |
French Flashcards Deck #34
| Card # | English | French |
| --- | --- | --- |
| 1. | triangle | triangle |
| 2. | planet | planète |
| 3. | hurry | se dépêcher |
| 4. | chief | chef |
| 5. | colony | colonie |
| 6. | clock | horloge |
| 7. | mine | mine |
| 8. | tie | lien |
| 9. | enter | entrer |
| 10. | major | majeur |
| 11. | fresh | frais |
| 12. | search | recherche |
| 13. | send | envoyer |
| 14. | yellow | jaune |
| 15. | gun | pistolet |
| 16. | allow | permettre |
| 17. | print | impression |
| 18. | dead | mort |
| 19. | spot | place |
| 20. | desert | désert |
| 21. | suit | costume |
| 22. | current | courant |
| 23. | lift | ascenseur |
| 24. | rose | rose |
| 25. | arrive | arriver |
French Flashcards Deck #35
| Card # | English | French |
| --- | --- | --- |
| 1. | master | maître |
| 2. | track | piste |
| 3. | parent | mère |
| 4. | shore | rivage |
| 5. | division | division |
| 6. | sheet | feuille |
| 7. | substance | substance |
| 8. | favor | favoriser |
| 9. | connect | relier |
| 10. | post | poste |
| 11. | spend | passer |
| 12. | chord | corde |
| 13. | fat | graisse |
| 14. | glad | heureux |
| 15. | original | original |
| 16. | share | part |
| 17. | station | station |
| 18. | dad | papa |
| 19. | bread | pain |
| 20. | charge | charger |
| 21. | proper | propre |
| 22. | bar | bar |
| 23. | offer | proposition |
| 24. | segment | segment |
| 25. | slave | esclave |
French Flashcards Deck #36
| Card # | English | French |
| --- | --- | --- |
| 1. | duck | canard |
| 2. | instant | instant |
| 3. | market | marché |
| 4. | degree | degré |
| 5. | populate | peupler |
| 6. | chick | poussin |
| 7. | dear | cher |
| 8. | enemy | ennemi |
| 9. | reply | répondre |
| 10. | drink | boisson |
| 11. | occur | se produire |
| 12. | support | support |
| 13. | speech | discours |
| 14. | nature | nature |
| 15. | range | gamme |
| 16. | steam | vapeur |
| 17. | motion | mouvement |
| 18. | path | chemin |
| 19. | liquid | liquide |
| 20. | log | enregistrer |
| 21. | meant | signifiait |
| 22. | quotient | quotient |
| 23. | teeth | dents |
| 24. | shell | coquille |
| 25. | neck | cou |
French Flashcards Deck #37
| Card # | English | French |
| --- | --- | --- |
| 1. | oxygen | oxygène |
| 2. | sugar | sucre |
| 3. | death | décès |
| 4. | pretty | assez |
| 5. | skill | compétence |
| 6. | women | femmes |
| 7. | season | saison |
| 8. | solution | solution |
| 9. | magnet | aimant |
| 10. | silver | argent |
| 11. | thank | merci |
| 12. | branch | branche |
| 13. | match | rencontre |
| 14. | suffix | suffixe |
| 15. | especially | particulièrement |
| 16. | fig | figue |
| 17. | afraid | peur |
| 18. | huge | énorme |
| 19. | sister | sœur |
| 20. | steel | acier |
| 21. | discuss | discuter |
| 22. | forward | avant |
| 23. | similar | similaire |
| 24. | guide | guider |
| 25. | experience | expérience |
French Flashcards Deck #38
| Card # | English | French |
| --- | --- | --- |
| 1. | score | score |
| 2. | apple | pomme |
| 3. | bought | acheté |
| 4. | led | LED |
| 5. | pitch | pas |
| 6. | coat | manteau |
| 7. | mass | masse |
| 8. | card | carte |
| 9. | band | bande |
| 10. | rope | corde |
| 11. | slip | glissement |
| 12. | win | gagner |
| 13. | dream | rêver |
| 14. | evening | soirée |
| 15. | condition | condition |
| 16. | feed | alimentation |
| 17. | tool | outil |
| 18. | total | total |
| 19. | basic | de base |
| 20. | smell | odeur |
| 21. | valley | vallée |
| 22. | nor | ni |
| 23. | double | double |
| 24. | seat | siège |
| 25. | continue | continuer |
French Flashcards Deck #39
| Card # | English | French |
| --- | --- | --- |
| 1. | block | bloc |
| 2. | chart | graphique |
| 3. | hat | chapeau |
| 4. | sell | vendre |
| 5. | success | succès |
| 6. | company | entreprise |
| 7. | subtract | soustraire |
| 8. | event | événement |
| 9. | particular | particulier |
| 10. | deal | accord |
| 11. | swim | baignade |
| 12. | term | terme |
| 13. | opposite | opposé |
| 14. | wife | femme |
| 15. | shoe | chaussure |
| 16. | shoulder | épaule |
| 17. | spread | propagation |
| 18. | arrange | organiser |
| 19. | camp | camp |
| 20. | invent | inventer |
| 21. | cotton | coton |
| 22. | born | né |
| 23. | determine | déterminer |
| 24. | quart | litre |
| 25. | nine | neuf |
French Flashcards Deck #40
| Card # | English | French |
| --- | --- | --- |
| 1. | truck | camion |
| 2. | noise | bruit |
| 3. | level | niveau |
| 4. | chance | chance |
| 5. | gather | recueillir |
| 6. | shop | boutique |
| 7. | stretch | tronçon |
| 8. | throw | jeter |
| 9. | shine | éclat |
| 10. | property | propriété |
| 11. | column | colonne |
| 12. | molecule | molécule |
| 13. | select | sélectionner |
| 14. | wrong | mal |
| 15. | gray | gris |
| 16. | repeat | répétition |
| 17. | require | exiger |
| 18. | broad | large |
| 19. | prepare | préparer |
| 20. | salt | sel |
| 21. | nose | nez |
| 22. | plural | pluriel |
| 23. | anger | colère |
| 24. | claim | revendication |
| 25. | continent | continent… |